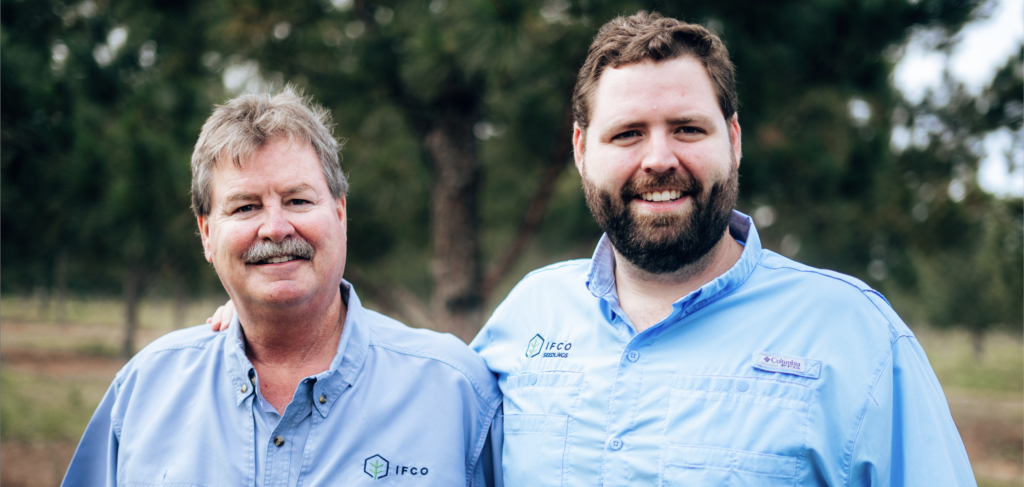 IFCO has been owned and operated by the Patrick Mobley family since 2004. We are committed to serving forest landowners. How? By being the premier producer of superior quality forestry seedlings that maximize the landowner's financial returns and meets their forest establishment objectives.
IFCO's products are produced and supported by professional staff that are eager to assist, educate, and problem solve to ensure their customers' success. We pride ourselves in not only producing a quality product, but also in creating lasting relationships with our clients.
WHY CHOOSE IFCO SEEDLINGS?
Customer Service
Our team of Genetic Investment Advisors are professionals that desire to listen to your needs.  We will ask questions and provide options to help you make the best choice possible for your timberland investment.
Proprietary Containers
Our container seedlings have the highest root weight and total number of roots of any commercial container on the market.
Seedling Protection
Our bareroot and container nurseries have a rigorous and well planned out herbicide and pesticide regime.  Our team works to stay ahead of issues which aid in producing a superior seedling.
Strategic Nursery Network
Our bareroot and container nurseries are strategically located across the Southeast to meet your needs.  Our nursery managers will work with you on a variety of logistics options.
Superior Genetics
Countless hours of research and development under the advisement of Dr. Graham Ford ensure the most elite options are available to our clients.  Our  internal and coop related testing efforts guide our deployment recommendations.  We gain vital information related to volume growth, rust resistance, stem straightness, as well as, the overall whole tree grade for specific families and CMP crosses.
Nutrient Loaded Fertilizers
We developed uniquely timed fertilizers that enhance first year growth, providing financial certainty.
Precision Sowing Equipment
Our bareroot nurseries utilize state of the art sowing equipment to help with seed placement and overall crop uniformity.
Industry Expertise
The team at IFCO Seedlings has expertise in forest management, genetics, seed orchard management, seedling cultivation, and customer service.  We exist to serve you.
I choose IFCO seedlings, and I don't know a stand of timber anywhere that's doing better than those. There are lots of foresters that drive by and say that it's a real head-turner if you know what you're looking for.
Adam Mizell
Mizell Development Inc
It's really like they are a part of our team. They have been nothing short of outstanding. We almost exclusively work with IFCO. We've got it down pretty good. They are easy to work with, transparent, easy to do business with, and provide wonderful service.
Wade McDonald
F&W Forestry
Not All Seedlings Are Created Equal
Find The Genetic Investment Advisor For Your Location